One of the first concerns people often have is that healthy eating is really expensive. We promise that it doesn't have to be that way. So here are our top 10 tips for how to eat well on a budget.
Plan ahead. Make a meal plan for the week and use that to create your shopping list. If you only buy what you're sure you will use you will avoid over-shopping and spending more money than you need to.
Buy frozen. Frozen fruit and veg are highly underrated but are just as nutritious, if not more, than fresh. They can save time as they are pre-chopped & ready to use and are often cheaper than fresh produce. Frozen berries are great for making smoothies and adding to oats.
Don't walk past tinned produce. There is a misconception that if it comes in a tin or a can it must be 'bad' for you. We need to consider what the food is, what it is canned in and the overall context before making a statement like that. Take fruit for example. Fruit tinned in it's own juice is a perfectly healthy addition to your shopping list and makes a great snack or dessert. Other staple items in our weekly food shop are tinned pulses such as chickpeas and lentils. These are amongst the cheapest items in the supermarket and a good source of protein. Read the label and try and choose varieties with no added sugar or salt.
Don't shop when you are hungry. We all know first hand that going to the supermarket when you are hungry can lead to impulse buying! If you are doing your shopping after work and have fallen victim to this in the past make sure you have a snack before you leave the office or have a piece of fruit handy in the car to avoid cravings.
Check out supermarket own brands. The nutritional make-up is often similar to the branded items, so we are really just paying for the name and nicer packaging. Do check the list of ingredients and nutritional facts panel first to make sure you are not getting a product of lower quality.
Eat in season. Seasonal produce tends to be cheaper than imported out of season foods. You can always buy extra and freeze for again.
Love leftovers. Cooked too much? Either have it for your lunch the following day or freeze for another day when you are too busy to cook. You will then have your own frozen ready meal to fall back on instead of spending money on a takeaway or supermarket ready meal. Bulk cooking at the weekend is another great idea to save time and money.
Change how you shop. Consider shopping at the end of the day when supermarkets often have "reduced to clear items" for sale which you can often freeze at home. Or try shopping online to minimise temptations from special offers you may ordinarily see walking around the supermarket or placed at the till.
Replace meat with other proteins. Try swapping meat for pulses, eggs or tinned fish a few days a week. These are generally cheaper but are still nutritious sources of protein.
Don't spend a fortune on so called 'superfoods'. These are just normal foods with good PR and marketing. Stick to the basics, and do them well.
We hope this has shown you that eating well doesn't have to cost a fortune. Plan your meals, cook more often at home and make some smart choices in the supermarket to keep costs down. Every little positive change you make can make a difference!
As always, if you found this article useful please share clicking on one of the links below!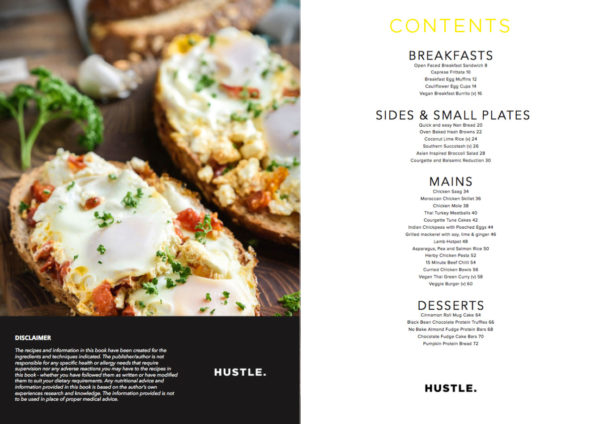 Subscribe and download our exclusive HUSTLE. recipe book!
Subscribe and download our exclusive HUSTLE. recipe book!