Salmon is one of the best sources of the long-chain omega-3 fatty acids EPA and DHA. Unlike most other fats, omega-3 fats are considered "essential," meaning you must get them from your diet since your body can't create them. Try this quick and easy recipe to get your daily fix!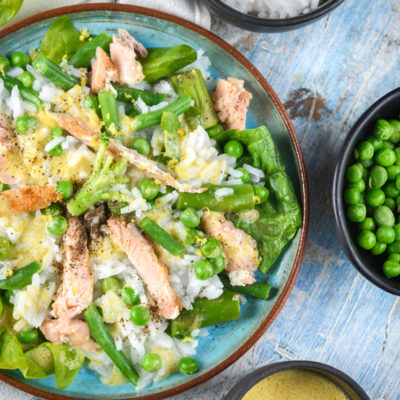 Asparagus, Pea and Salmon Rice (Serves 4)
Total time: 10 minutes

Ingredients
2 bunches asparagus or green beans, trimmed and diagonally chopped
150 grams frozen peas
2 x 250 grams packs ready-to-heat white rice
350 grams poached salmon fillets, flaked
100 grams baby spinach
Zest and juice 1 lemon
2 teaspoon Dijon mustard
1 tablespoon olive oil
Pinch sugar
Instructions
Cook the asparagus or green beans and peas for 2–3 min in a large pan of boiling water until just tender – drain well.
Meanwhile, heat the rice according to the packet instructions, then put in a large bowl.
Add the asparagus or beans, peas, salmon and spinach.
Put the lemon zest and juice, mustard, olive oil and sugar in a bowl and whisk to combine.
Drizzle over the rice mixture and gently toss to combine.
Serve immediately sprinkled with ground black pepper.
For more simple recipe ideas like this, subscribe and download our HUSTLE. recipe book!
If you liked this recipe, please share it using one of the links below.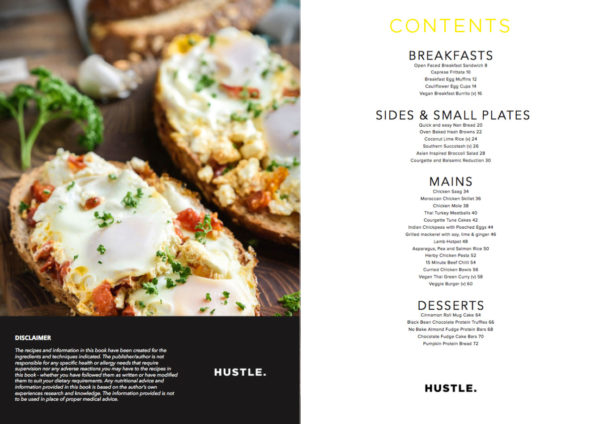 Subscribe and download our exclusive HUSTLE. recipe book!
Subscribe and download our exclusive HUSTLE. recipe book!