You don't have to go without hash browns on a Sunday morning anymore! This recipe avoids frying to save on those unnecessary calories!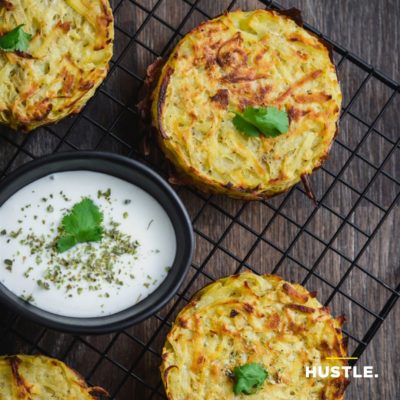 Oven Baked Hash Browns (serves 6)
Prep and cook time 45 mins

Ingredients
2 medium potatoes
1 medium onion
2 medium eggs
A pinch of sea salt and black pepper
1⁄2 teaspoon garlic powder
For the topping:
Nigella seeds, poppy seeds or sesame seeds, or chopped garlic and fresh coriander 1 tablespoon butter, melted, to serve
Preperation
Begin by preheating your oven to 200°C/400°F/gas 6.
Grate the potato and onion on the large side of a box grater.
Put the grated potato and onion at the centre of a kitchen towel and squeeze out the excess liquid over the sink to avoid a mess.
Put the mixture into a bowl and add the egg, salt, pepper and garlic powder and combine.
Lightly grease a baking tray and get handfuls of the mixture and shape in to round patties.
Put them on the tray and gently flatten (the mixture should make around 8 hash browns).
Bake for 15 minutes.
Flip them over, pat them down and then cook for a further 20 minutes until they are crispy!
For more simple recipe ideas like this, subscribe and download our HUSTLE. recipe book!
If you liked this recipe, please share it using one of the links below.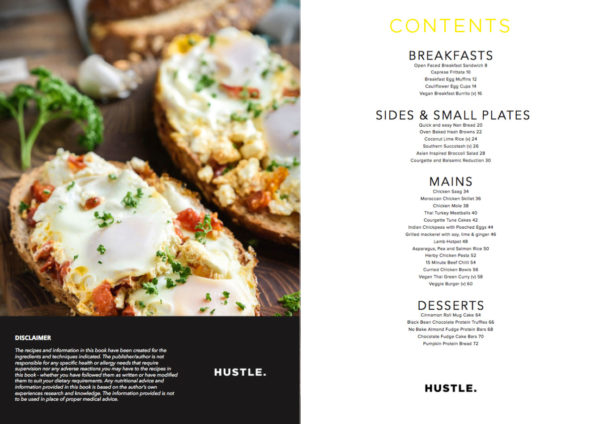 Subscribe and download our exclusive HUSTLE. recipe book!
Subscribe and download our exclusive HUSTLE. recipe book!