"I am a mother of three and grandmother of two. I have a full time demanding teaching job and so can easily fill my days looking after others – which is what I had become very good at. I was not good at looking after myself. This time last year as I walked up two flights of stairs, my knees ached.
After years of looking after others, my own self-confidence was not good. I was very overweight and often had niggling headaches and stomach upsets .Last year, I decided enough was enough. I didn't want to get old and frail before my time. I was struggling to go up stairs and could not have run for a bus! My children are all young adults and didn't need me as much as I had convinced myself that they did and so I decided it was actually time to look after me.
When I first met Richi he was friendly and supportive. He encouraged me from the very beginning and made exercise fun (something that I would not have believed was possible). He taught me about portion control and how to eat better. My monthly weigh-ins became something to look forward to after the horror of the first one when I found out what damage I had done to my body. I had poor posture and would get out of breath very quickly. I had always thought lifting weights was something only men did. Richi gave me exercises to improve my posture and my strength and this has, subsequently, positively affected my overall confidence."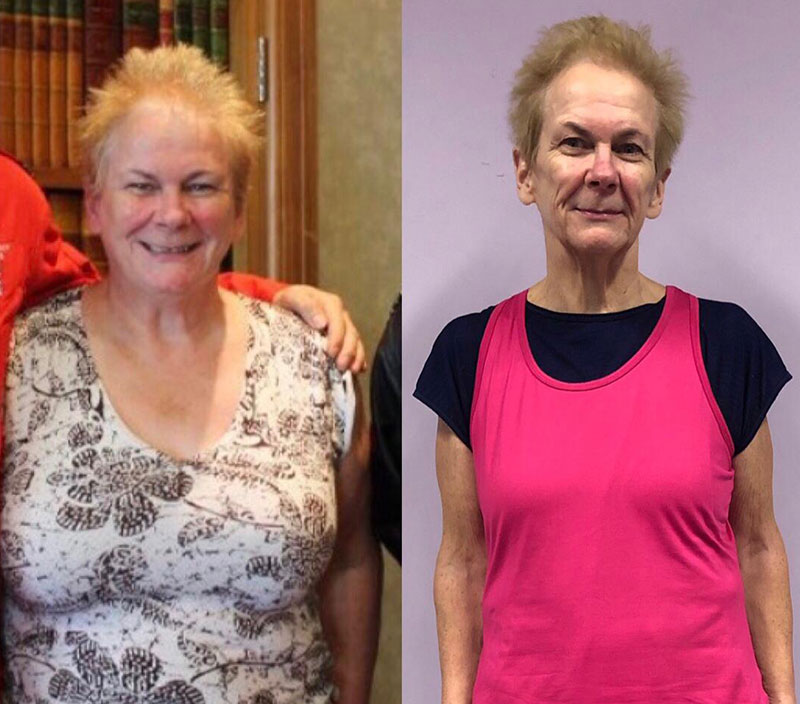 "Over the months working with him, Richi has been patient, sensitive and supportive. My weight has fallen off and I am now lighter than I have been in my daughter's words – 'in my (hers) entire adult life'. I am stronger and fitter than I have ever been and I know I can now look forward to a much healthier lifestyle than I would have ever believed possible.
I knew that I could trust Richi – something that was really important to me – and that meant that I was able to take his advice and know it would work. I knew that he knew what he was doing and I saw the results of his expertise weekly. He has made me laugh (and sometimes feel like crying) yet he has always been both caring and professional. I can never thank him enough and wish him every success. I would have no hesitation recommending him as a trainer and teacher."
Ready to kickstart your journey? Click here to find out more and get started!